In addition to our regular weekly meeting opportunities (Weekly Schedule page) and our regular annual events (Events page), the following ministries and services are provided by the family of Reliance Baptist Church: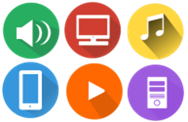 The Reliance Baptist Church's media Library is open to the community, as well as church members, before and after services on Sundays and Wednesdays. It can also be available by appointment. Call the church to visit the library on "off" days. The library has a large variety of books, DVD's, audio tapes, CD's and teaching aids for our church and community.




Personal, premarital, marital, and family counseling are available with the pastor and/or his wife, Nita. Call the church office for appointments.



The church is available for weddings. It can be rented for a party outside the church whether or not the pastor conducts the service. If the couple wishes the pastor to perform the wedding a minimum requirement of 3 premarital counseling sessions will be required. Please contact the church for additional guidelines and prices, or dates available.



The church fellowship hall and annex (Community Building) are also available for rent for family reunions, meetings, etc. Contact the church office or Travis Gray (979-589-1360 or 979-777-3752) for booking information and dates.



A food pantry is available for those in need of groceries. The church does help families financially from time to time. An application for aid must be filled out and our benevolence committee will review and make a recommendation to help based on the information provided. Please allow up to 48 hours to process a request for financial aid.